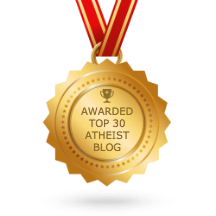 If you've noticed a change on my site recently it's because it now carries a "medal" of sorts indicating my site has been awarded as a "Top 30 Atheist Blog" by
feedspot
. I certainly am honored for the recognition. I've been blogging for 6 years on this site and I don't plan on stopping any time soon. On the list are such giants as Hemant Mehta's
Friendly Atheist
blog, which is huge on the web, and
Atheist Revolution
, another huge site, along with several relative unknowns.
Now while my site is relatively unknown compared to the heavy hitters above, I do hope it can expand in the future to become a major player. It all depends on how much I can dedicate myself to writing good quality blogs that arouse people's interests. I tend to focus mainly on counter-apologetics where I deconstruct religious arguments I find unconvincing, as well as make my own arguments for atheism. This means that sometimes my blog posts are mired in technical detail that will only appeal to someone interested in the argument. I don't often focus on commenting on the latest news in the secular/atheist communities because there are plenty of other blogs doing that much better than I can, and I just cannot blog at the frequency required to do that due to work. If blogging was my full time gig, then maybe.
So while this is an honor to be recognized I feel the pressure to live up to it. I hope that I can churn out worthwhile content in the future. And as winter is almost here and I am not fond of cold weather, I do plan on blogging more frequently. I am also seriously considering a YouTube channel since I've always wanted to do that and doing so will certainly increase my exposure. The only problem I have with it is the amount of time it will take to do so. Which has always been my problem.
But, I do have many ideas planned in the future for 2017 with my local atheist community in terms of content creation, so stay tuned. Here's to a productive 2017!