OK, I feel the need to weigh in on the recent comments made by Donald Trump from his Access Hollywood appearance back in 2005. If you haven't heard about it, Trump
got caught on a hot mic
saying that he kisses married women without their consent, and he tries to fuck them, and he likes to grab women by the pussy, also without their consent.
Aside from the fact that we've never had a presidential candidate caught on recording saying such things in the modern era, I want to talk about Trump's explanation that this was all just "locker room talk."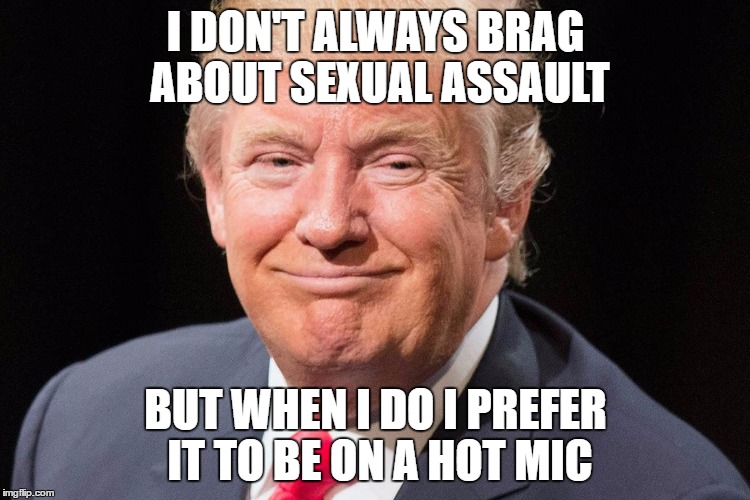 Now as a man I am very familiar with so-called "locker room talk," but bare in mind that it doesn't include talking about sexual assault. Yes, many men talk about women in very sexual and sometimes very degrading ways, and I too have been guilty of it, but that's different from bragging about sexual assault. In heterosexual male culture there is a kind of expectation that you're supposed to talk about women as sex objects and brag about all of your sexual exploits with them. And yes, there is an incentive to exaggerate on the juicy details whenever necessary. This has been going on probably since we've had language as a species, and it might not ever end. Not all men or boys do this, and not all the time. But generally speaking, your average male has done this at some point in his life.
For a long time this kind of behavior was chalked up simply as "boys will be boys." But now of course this excuse is increasingly not being accepted by society. Here's my view on this. First, we have to keep in mind that what Trump talked about was
actual
sexual assault, not just having sex with women consensually. We cannot have any tolerance for sexual assault or rape of any kind, period. Second, when it comes to talking about women in sexually degrading ways, my view is that we men should refrain from it, but I wouldn't go so far as to say two men should never talk about women in sexual terms. It's possible to talk about someone as a sex object while being able to fully recognize them as a human being. We've evolved to look at each other as sex objects. That's how nature gets us to reproduce. But you can look at a women as a sex object
and
as a human being without being a hypocrite, because how you see her depends on the context.
So I'm not asking that all people all the time talk and act as if they were on national television because that would make the world into a politically correct 1984 dystopia. We should be free to say what we want in private but know that it
might
become public and we should be prepared to deal with the potential consequences, however frightening that may be.
Most men who engage in "locker room talk" are not rapists or would ever sexually assault a woman and so they know how to understand the context. But again, remember what Donald Trump did: he bragged about having had sexually assaulted women in the past. I'm not justifying that. I'm just saying that it's OK to talk about women in sexual terms when men are together alone, so long that they treat women with respect when they're near them. That also means not referring to women as "bitches," which is still very prevalent, especially in the black community — but referring to them as "women." It almost seems like an expectation in some circles to refer to women as "bitches" to the point where if you don't you must be a pussy. We've got to stop that.
There are at least two ways that I've thought of where we can remedy the situation:
(1) Part of that solution is that women need to stop fucking guys who treat women like shit because they're rewarding their behavior and encouraging it. Most of the men I've known who were successful with women treated them as sex objects to be used for their pleasure and spoke of women in the most degrading ways possible. I had no incentive to be a "nice guy" to women and treat them with respect growing up. So if you're a woman who's committed to the idea that men need to treat women with greater respect, you need to make sure that you don't fuck guys that treat you like shit and you need to tell your girlfriends not to fuck guys that treat women like shit either. Because as long as men think they can get laid more by treating women disrespectfully, men will do so.
(2) Another part of that solution is that men need to call out bad behavior in other men when they see them acting and behaving in deplorable ways towards women. There needs to be a social price to pay for bad behavior. We cannot have a culture where men are praised for doing things like sexual assault or seriously degrading women. It's one thing for guys to talk about women's bodies in graphic detail, it's another thing to treat women like nothing more than objects, or violate them without consent.