I came across a
blog post
 by a "gay, former liberal" describing his experience "waking up" out of liberalism to support Donald Trump for president. While reading it I saw a number of problems with his logic and so I'm going to critique them here. It's very important we get out of our echo chambers and understand the mindset of those who think differently from us and know where exactly they go wrong.
The
blogger is named Josh
and describes himself as a "32-year-old single Christian gay guy, who is helping raise his 3 year old niece." Fair enough. One can be conservative and gay, and technically one can be Christian and gay, especially since nowadays just about every Christian makes up his or her own version of Christianity to suit their personality.
In his post Josh describes how he started out not being particularly political, but interested in conspiracy theories, and then later jettisoned that interest and got deeper into politics in the beginning of the last presidential election cycle. He writes,

Then something gradually happened… while watching the debates to crack jokes, I began internalizing the information, suddenly finding my eyes to begin opening. I became aware of ISIS, and others with the desire to come to America for the purposes of ending our way of life, and illegals pouring through our borders, costing taxpayers billions, and contributing to crime. I discovered our Veterans were being treated poorly, many homeless on the streets, while others are allowed to come to the United States illegally, reaping the benefits. A wide range of issues really started to resonate with me.
A few things. Yes ISIS are evil people hell bent on destroying our way of life (you know, the liberal way) and are driven by a fundamentalist interpretation of Islam. It's good to be aware of that and Democrats far too often do not acknowledge this.
Illegal immigration since the financial collapse in 2008 has been slightly declining — meaning, there's been a
net decrease
for nearly 10 years. But Josh is completely ignorant of that data, as is Trump, and almost all of his supporters.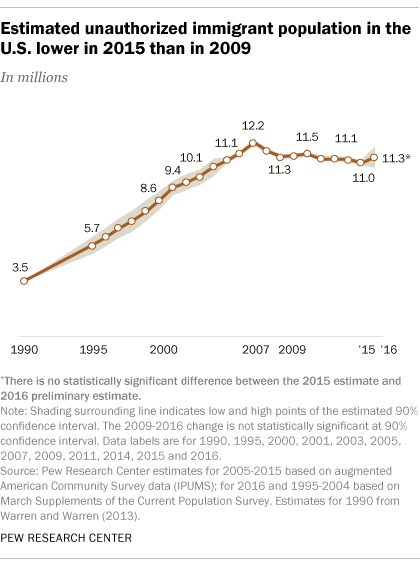 As for the cost to tax payers, there's mixed data on this. Some right-leaning
sources
have the annual cost to tax payers at $113 billion, and many of these studies rely on estimates and include the cost of US born children of illegal immigrants who are themselves US citizens. Other studies have the number closer to $85 billion, and left-leaning
sources
say that there's an over all net-positive due to the consumer demand, tax revenue from income tax, payroll taxes, and the positive economic impact of lower priced goods from the cheap labor. But one thing's clear: giving illegal immigrants legal status and cracking down on work places that hire illegal immigrants off the books so that they do not pay taxes would dramatically lessen the tax burden they have on US tax payers.
And finally when it comes to the "contributing to crime" claim, it's true. Some illegal immigrants contribute to crime. But you know what? Some
tourists
contribute to crime. Should we ban tourists then? Of course not. Merely contributing to crime is not a justification to deport all illegal immigrants. You can't expect 11 million people to be completely crime free. Studies also show the crime rate of illegal immigrants is
lower than that of native citizens
. And over all crime in the US has dropped over the last 25 years, just as the numbers of illegal immigrants was rapidly increasing.