Pew is a treasure trove of cultural and demographic data for nerds like me. I can spend hours on the site pouring over all their new studies.
Here are some recent graphs
that caught my attention
on religion and the rise of the "nones" in the US and Western Europe. From
Why America's 'nones' don't identify with a religion
:
People who identify as "nothing in particular" give a variety of responses when asked about their most important reason for not affiliating with a religion – and no single reason predominates. A quarter say the most important reason is that they question a lot of religious teachings, 21% say they dislike the positions churches take on social and political issues, and 28% say none of the reasons offered are very important.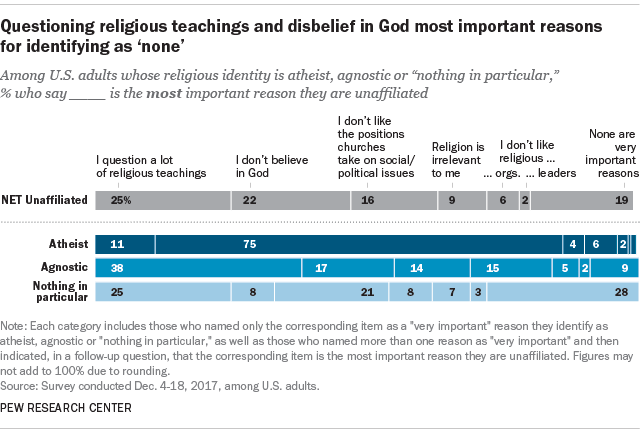 As expected, questioning religious teachings is a major reason why people leave religion:
Six-in-ten religiously unaffiliated Americans – adults who describe their religious identity as atheist, agnostic or "nothing in particular" – say the questioning of religious teachings is a very important reason for their lack of affiliation. The second-most-common reason is opposition to the positions taken by churches on social and political issues, cited by 49% of respondents (the survey asked about each of the six options separately). Smaller, but still substantial, shares say they dislike religious organizations (41%), don't believe in God (37%), consider religion irrelevant to them (36%) or dislike religious leaders (34%).
In another survey of Western Europe, it shows how most unaffiliated adults were raised Christian, disconfirming the misconceived idea that if two Christians have a kid, that kid will be a Christian its entire adult life. Assuming kids will all keep the same religion of their parents is what lead Pew a few years back to
over estimate the rise of the percentage and absolute numbers of the world's religious population by 2050
. From the recent study, you have an 86% chance of having been raised Christian if you're not currently religious in Spain. And the median number of the unaffiliated raised Christian in Western Europe is 60%.